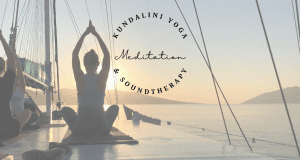 The Art of Resilience & Wellbeing
Give your being what you deserve!
Wednesday 05.10.21, 16.00pm-19.00pm
Event Details
What: The Art of Resilience & Wellbeing: Body, Mind, Soul in unity. Kundalini Yoga, Meditation, Sound Therapy.
The purpose of this event: is to share knowledge and experience which will inspire and practically contribute to the personal, corporate and overall well-being of our already beautiful world.
When / Event Duration: Wednesday 05.10.22, 16:00-19:00, on Anassa yacht, at Marina Alimou.
The agenda / flow:
Knowledge sharing on resilience & wellbeing – the theory behind
Kundalini Yoga practice, meditation and soundtherapy, to energize our body, calm our mind, open our heart – the experience
The takeaway – tips and tricks
What you will need:
Cosy clothes for yoga practice, a light jacket when the sun sets, your yoga mat if you have one (yoga mats will also be provided).
Participation fee: FREE for AMNIS customers, within EIEP Customer Experience week 2022
The facilitators' team:
Maria Stella Hiladakis, the Art of Wellbeing, MBA in Marketing, Kundalini Yoga, Meditation.
Maria Stella is in the corporate world for the last 26 years dealing with the areas of management consulting, banking, marketing, customer experience, loyalty, employee experience and recently with corporate wellbeing. She has incorporated wellbeing in the corporate world with respective results. In parallel, for the last 9 years she practices and is a Kundalini Yoga teacher, with the purpose of personal development and personal resilience she has highly put in practice both in her personal and professional life.
Maria Stella: (https://www.linkedin.com/in/maria-stella-hiladakis/)
Customer Service Week 2022!